The charm of an outdoor event alone is an excellent starting place, but a tent gives you so many more possibilities. The fabric of a white tent is like a blank canvas waiting for you to unleash your creativity. Here are my suggestions
Lighting: The lights in your tent can set the mood for your outdoor event. If you're planning a relaxed, casual country wedding, try café lights. If you want a high energy event, try colored can lighting. Bright colors can energize your event. Amber lights will shed a soft, warm glow over your guests inside the tent.

Tables: There is so much that you can do with size, placement and arrangement of tables. Randomly mixing round and rectangular tables gives your event a more casual feel. For a more country feel, try farm tables.

Linens: Table linens are a great way to add color to your event and make it really "pop." Our basic solid colored linens come in 59 colors. So, we're sure to have a color you like. If you like a more country style, try burlap or panama.

Chairs: Whether you're looking for an upscale chiavari ballroom chair or an inexpensive brown folding chair, we have what you need.

Flooring: If the ground surface is soft, uneven or sloping, you may want to consider adding flooring and carpet to your tented event. If your event is on grass and you expect guests to be wearing heels, flooring is also a good idea.

Restrooms: I'm sure you've used the basic portable restrooms that are common at outdoor events, and it's not usually a pleasant experience. Give your guests something more with our elegant restroom trailers. They include heat, air conditioning, running water and real flushing toilets.

Tent sidewalls: Most of our tents come with free white sidewalls. If you'd need to close the walls, it's nice to upgrade to the cathedral window sidewalls. Everyone can see out and it allows more light into the tent.
Wedding tent with farm tables and cafe lights
Randomly mixed rectangle and round tables in a wedding tent
Amber lights give the tent a warm glow
White padded chairs with purple sashes
Cathedral window sidewalls give the tent an elegant look and allow more light to enter the tent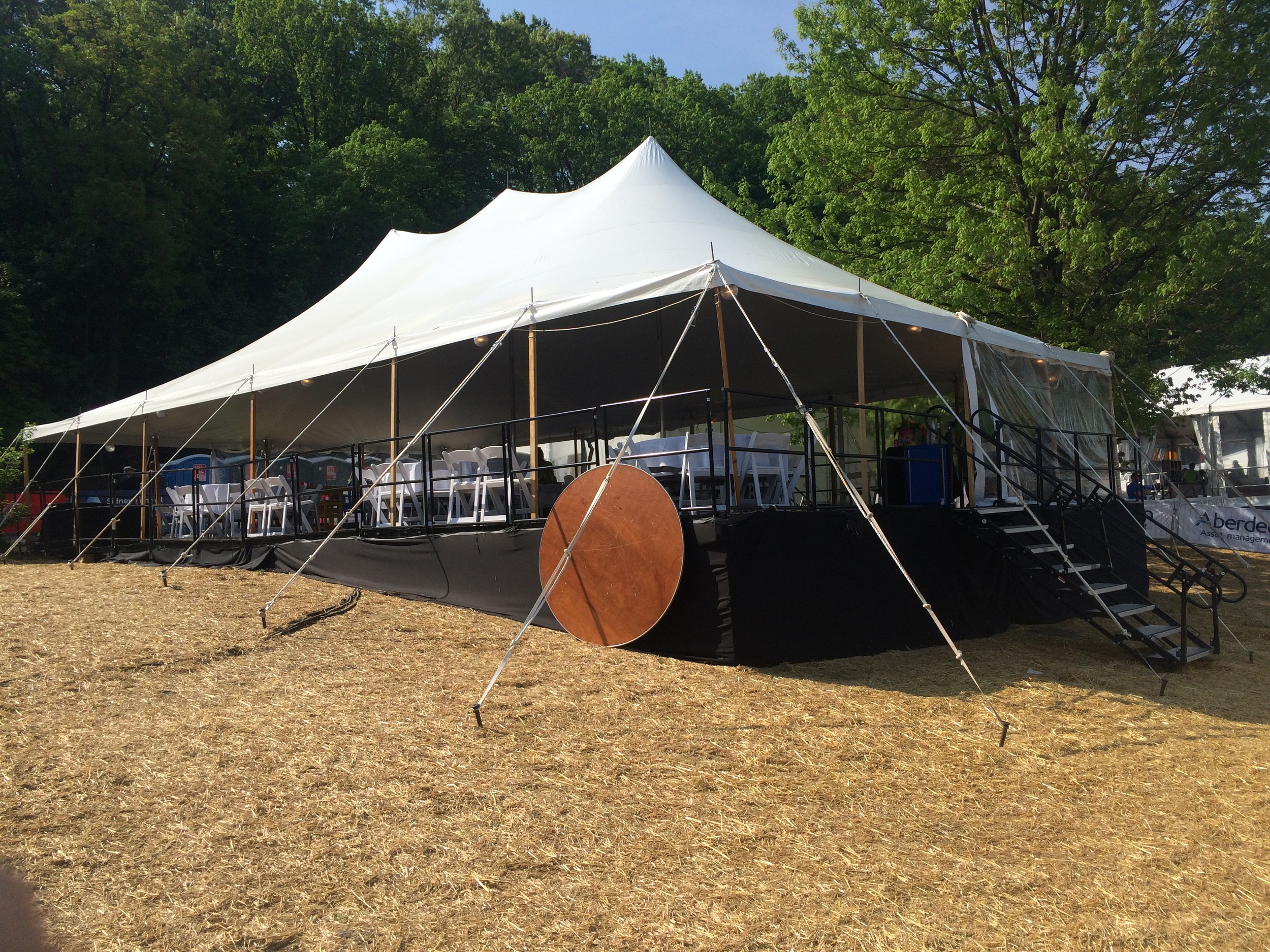 Flooring can make any area tent-ready
Wedding reception with farm tables